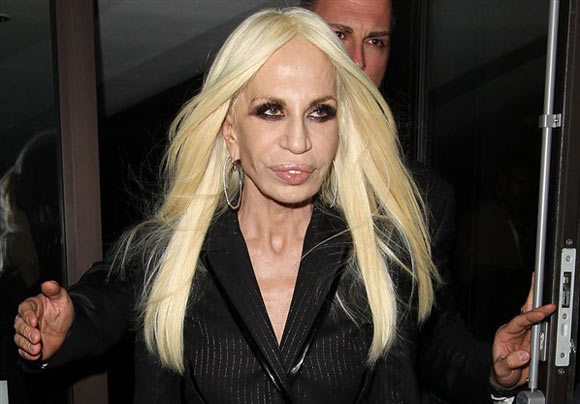 Born on 2nd May 1955, Donatella Versace is the vice-president and head designer of Versace corporation.  She is the sister of Gianni Versace, who died in 1997 and he founded what has now become a family business. Donatella's initial knowledge about designing came from her mother who was involved in dressmaking. Her father was an aristocracy financier. Donatella lost a sister because of a tetanus infection. She is married to Paul Beck and the pair have two kids, Daniel and Allegra. Moreover, Donatella is the aunt of Antonio and Francesca who are the children of one of her bothers, Santo Versace. Santo also became occupied with the business and held the position of CEO at the company.
Donatella was very close to Gianni and supported his clothing business. She too was interested in fashion and planned to manage the public relations department. However, in an interview Donatella Versace described to Vogue that for her brother she was a critic and a muse. Many a times, Donatella advised Gianni about designing and orchestrating Versace advertising campaigns and fashion shows. In fact, in the 1980s Gianni launched a fragrance, Blonde and a label called Versus, dedicated to her sister that runs under the Versace group.
After the tragic and publicized death of Gianni, Donatella along with other family members secluded herself temporarily in a Caribbean resort, cancelling a 1999 spring-summer collection. She was devastated and tried to cope with the pain through the use of pills and drugs. When she stabilized herself, Donatella switched her residence between the homes that were owned by Gianni.
Moving on, Donatella gave fulltime commitment to the business and made it bigger than before. She used celebrities instead of unfamiliar models for advertisements and catwalks for Versace's clothing collections. She is the key person who publicized the business throughout the United States and United Kingdom. Donatella used her famous friends – such as January Jones, Beyoncé, Demi Moore, Jonathan Rhys Meyers, Christina Aguilera, Courtney Love, Madonna, Jennifer Lopez and Lil' Kim – to become the image and persona of Versace. Donatella became more popular when she created a highly revealing yet classy green Jungle Dress, which was flaunted by Jennifer Lopez in 2000's Grammy Awards.
It took Donatella a year  to come out of the tragedy she had been through and mount her first fashion show at Hôtel Ritz Paris and staged the runway in the same way as her brother did. She manages a dozen lines every year and is famous for her scintillating parties that are attended by people, including Prince Charles, Kate Moss, Catherine Zeta Jones, Rakeem Young, Liz Hurley and Sir Elton John.
Donatella has made guest appearances in several films with concepts and themes relating to the fashion industry, like Zoolander and The Devil Wears Prada. Moreover, in the hit series Ugly Betty aired by ABC channel, Gina Gershon played a parody of her.
In 2010, she received a Do Something With Style Award for her creative charity efforts for children by Do Something, that aspires to celebrate and inspire young people. Apart from this, she is the patron of Elton John AIDS Foundation.
Under the care of Donatella, Versace has been morphed into a lifestyle trademark that produces clothes, accessories, home furnishing items and even hotels.