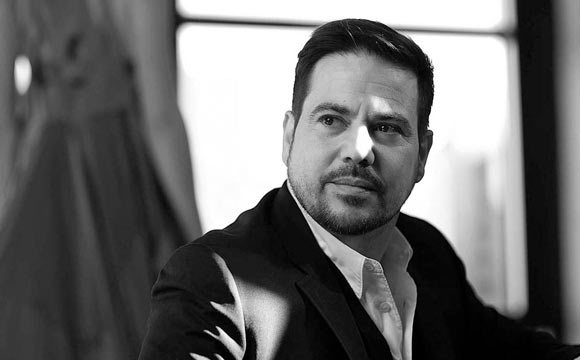 From America's most populous city, New York – Narciso Rodriguez is a fashion designer, born in January 27, 1961 and raised in New Jersey. He completed his formal education at Parsons The New School for Design. After this, he worked as a freelance in the garment industry and soon joined Anne Klein. Next, he worked with Calvin Klein's women's collection. By 1995, he was assigned as the Design Director at TSE and presented his prêt-a-porter range for both women and men. At the same time, he held the same position at Cerruti.
In 2001, he opened his atelier and presented various collections under his label. A year later, he received the designer of the year award in women's wear by the Council of Fashion Designers of America. In 2005, Time Magazine honored the designer and after two years, Rodriguez was given the Fashion Icon Award by the Pratt Institute. In 2008, a book was published about Rodriguez's design sense and process, by Rizzoli. The same year, the American Latino Media Arts Awards honored him for a special achievement in the fashion industry. In 2010, he won the sponsorship of a luxury car, Mercedes-Benz. At the same time, he was selected as one of the cultural leaders by Vanity Fair and USA Network.
By the year 2003, Rodriguez involved himself in fragrance production as well. His first creation with Beauté Prestige International won the FiFi Award and the Nouveau Niche award. In addition to this, his men's perfume won Grand Prix du Parfum Award. The designer personally loves the scent of orange blossom, honey suckle and jasmiand The Family Stone (2005). Rodriguez has maintained good personal rapport with several actresses, like Claire Danes, Sônia Braga, Julianna Margulies, Rachel Weisz and Sarah Jessica Parker. Moreover, he collaborated with Jonah Bokaer and Christopher Wheeldon (choreographer), and Cindy Sherman (artist).
Rodriguez believes his career inspiration have been the Latina females around him: his mother, aunts and extended family. Although the women didn't have the know-how of luxurious fashion, they had an amazing style and looked naturally beautiful at any age. Other notable Latinas that have influenced Rodriguez includes Celia Cruz and her platform glitter shoes. In a larger context, Narciso visits places like Istanbul to gain design inspiration; adding new flavors to his outfits.
Apart from this, Narciso loves a few Cuban dishes, such as rice, black beans, roasted pig and boliche. For a quick mental and physical fix, he heads out to Café Cortadito in New York. As a hobby, Rodriguez likes taking photographs all the time of various things. He calls himself a 'documentarian'.
For Rodriguez, his life and work have always been the same thing since childhood to adulthood. He always knew what he wanted to do in life and how he wanted to meet his goal. Designing has always been one of his instincts and this is why it was never really a struggle for him to reach where he is now. However, due to this his friends never gave up on him and always waited for him and supported him.
For his overall accomplishments, Rodriguez values his faith a lot. Moreover, he appreciates his parents for teaching him the essentials to showing gestures of honesty and simple goodness with himself and others. Narciso Rodriguez always desire to not only better himself but do the same justice with his collections as well.