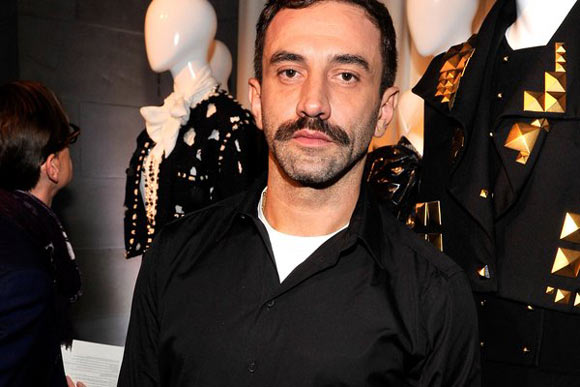 Riccardo Tisci is an Italian designer from Taranto, who was born in 1974. He graduated from Central Saint Martin's Academy in 1999, London, after studying in Italy. The city of his birthplace is tied to mythological stories of marines and mermaids, that acted as an inspiration in designs he created for Givenchy haute couture and ready-to-wear. After graduation, Tisci worked for a series of companies such as Coccapani and Puma prior to signing a three year agreement with Ruffo Research, which initiated the careers of many fashion designers including Sophia Kokosalaki. In 2004, when the contract expired, he started working on his personal collection, that he exhibited in 2005 and 2006 Fall Milan Fashion Week.
Before long, he was appointed as the creative director at Givenchy in 2005. This was an offer he had almost turned down since his original idea was to focus on his own fashion collection. However, when the designer found out about his mother selling the house for a personal problem related to his sisters and their new family life, he accepted the company's offer and was content with his salary. Marco Gobbetti of Givenchy described Tisci as a perfect fit for the label because the designer has an elegance that is highly contemporary, modern and romantic simultaneously. Unlike the many designers who have succeeded Hubert de Givenchy, Tisci has received immense success, both financially and critically, specially in the sphere of haute couture. His catwalk presentations are very stylized with regards to space and architecture. The designer explained that his way of displaying the work is extremely melancholic and Tisci loves sensuality and romanticism.
Tisci, while working for Givenchy, created costumes for Madonna in 2008 to wear on the Sticky and Sweet Tour, following Dolce & Gabbana and Jean Paul Gaultier. In 2009, he designed another outfit for the introductory song, Candy Shop. In addition to this, he also designed exclusive clothes for Madonna – when she is not performing on stage.
For Givenchy's Fall collection in 2010 he launched a new Brazilian transsexual model, Lea T. He worked with this models for years and Lea was also his personal assistant. In 2011, Tisci was considered to become John Galliano's successor at Christian Dior as the head designer, however a year later Raf Simons was announced as the Dior's creative director after Galliano.
His other projects include an invitation in 2008 to curate A-Anna magazine, issue eight. In 2011, he was the guest editor of Visionaire's issue on religion. Moreover, other than working with Madonna, Riccardo Tisci has collaborated with Kanye West and Jay Z to make the covers for H.A.M and Watch The Throne. He again worked with West for his label GOOD Music on the Cruel Summer album.
Mariacarla Boscono, Italian model, appears frequently in his fashion shows and advertisement campaigns not only because of her talents but also because she is Tisci's friend since his days at Givenchy.
Tisci desires to open a foundation for young people, to help them pursue their dreams and do what they are passionate about. This charitable thought came to his mind because of a young Iranian boy, who he encountered, who attends a boarding school in Dubai and is highly interested in fashion. However, his parents want the boy to study the subject of law.
Many fashion lovers, critics, and people feel that Riccardo Tisci's fashion designing sense is gothic and dark.