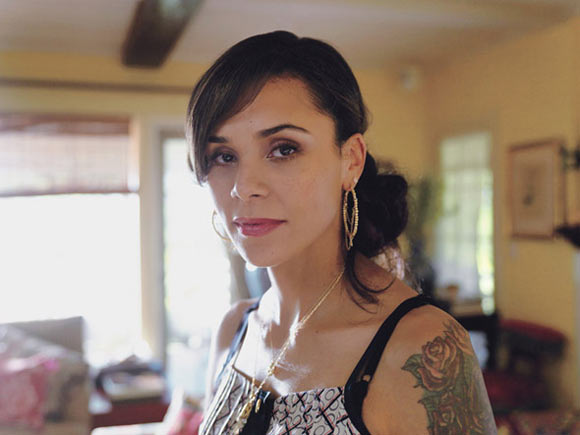 Born to an African – American father and Ashkenazi Jew mother on March 22nd, 1974, Kidada Jones turned out to be a multi talented young actress, model and fashion designer despite facing identity crisis when young; being kicked out of eleven schools for not fitting in. She is the sister of Rashida Jones and Quincy Jones III. According to a DNA research done, Kidada is more than one-third European and two-thirds African. Her ancestry can be traced back to the Tikar tribe living in present day Cameroon.
Born in Los Angeles and raised in Bel-Air, California; Kidada were friends with Michael Jackson and Kareem Abdul Jabbar. Young Kidada Jones dated Tupac Shakur back in the days when she was a teenager after his marriage with Keisha Morris was annulled. Life wasn't then same for her after he was shot when he came to pick her up. Devastated by the tragic loss of her fiance, she had a tattoo made in his memory on her arm.
She studied at the Los Angeles Fashion Institute for Designing and Merchandising which she left at nineteen when she was offered work with Tommy Hilfiger. Jones soon started working as a celebrity stylist at her father's magazine Vibe where she was recognized after styling Michael Jackson for Vibe's 1995 cover.
Kidada also made her debut in the film industry with 'The Faculty' which was released in 1998; she played Usher Raymond's on-screen girlfriend, Venus. Although her scenes were cut from the movie later, she also appeared in another movie, Black and White in 1999 alongside Brooke Shields. She was also part of 'Thicker than Water' which was released in 1999.
Jones' brief time as a fashion designer includes designing a clothing line for Snoop Dogg for three years. She also tried her luck with modeling and appeared on covers of famous magazines like Vogue, Harper's Bazaar and Elle Magazine. In 2005, Jones started designing Couture for Kidada, a jewelry line for the Walt Disney Company. She still works as a consultant on Disney's projects.
Kidada married Jeffrey Nash years after her boyfriend Tupac died but the marriage did not work out for long and soon they went separate ways, but Kidada and her ex still remain friends. Kidada also appeared on Oprah's New Earth class in 2008 where she asked the viewers a question that got them thinking. If all form was just an illusion then where all the fun in life was hidden. The answer was that sometimes one needs to learn to let go instead of holding on to things that don't really matter or have run their course in our life. All one has to do is breathe fully and feel the body. Make sure that they remain in the present while doing so. Kidada found that she was not very conscious of the present moments. With all this she learned to find depth in her life.
Recently, Kidada and her sister Rashida Jones teamed up for a project, Ladyballs. The story revolves around two estranged friends in their late teenage years searching for love in New York City. But later after being reunited, they realize that they both have fallen in love with the same guy, they cash in on a big business opportunity and set up a discreet agency helping others in the same situation. This will be Kidada's first production.