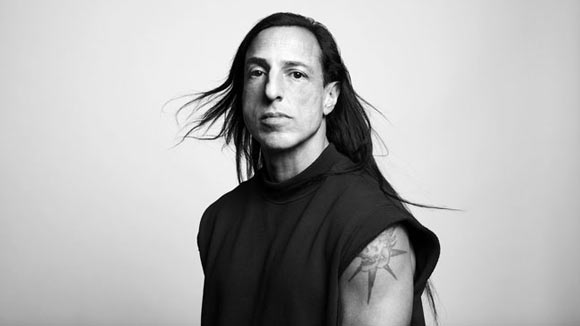 Studied at Otis College of Art and Design for two years prior to quitting and taking courses at  Los Angeles Trade-Technical College to learn draping and pattern making – Richard Saturnino Owens, known as Rick Owens, is an apparel designer from United States. Thirty-two years after his birth, in 1994, he founded his label. For several years, his label created designs exclusively to sell to Charles Gallay, which was a pioneering retailer in the city at the time.
In 2001, Owens joined hands with Eco Bocci Associati to develop his company internationally and moved the production of Owenscorp to Italy. In the same year, Kate Moss flaunted Owens leather jackets for Corinne Day's editorial shoot. A year later, he displayed his collection at a fashion show for the first time during the New York Fashion Week. The show was sponsored by Anna Wintour and Vogue America, who listed him as one of the most fabulous discoveries. Moreover, Owens was hired by Revillon, a fur making company established in 1723. Moving on, he collaborated with Panos Yiapanis in order to attain assistance in his runways.
By sexuality status, he is a bisexual and married to Michele Lamy. As of 2003, the couple lives in Paris.
A normal day in Rick Owens's life is as follows: He says hello to the morning with a cup of coffee and check on e-mails. Later he turns on the television, mutes it and puts Julia London on loud on the stereo. Owen freshens himself up with a shower and wears his usual black priest like attire with a silver hand bracelet bought for him by Lamy.
If Owens's wants to travel then he chooses to do so by a Métro, although he has a van and a chauffeur (but it's mostly delivering fur to clients). He wishes to travel alone most of the time, however when Lamy is around then an army of dog walkers, artists, assistants and gym trainers are travelling with them – a V.I.P scenario.
Later, he speaks to his office manager who updates him about the work and his tasks during the day – pretty much like a diary telling him "things to do". Then Eleganzerella, his CEO, points to him about the problems that need to be fixed.
While having his mid-morning snack of granola, he reads publications such as, The Business of fashion and The New York Times. At around one in the afternoon, he walks to his gym and spends an hour working out with thunderous music. After the heavy dose of exercise, he heads for home and indulges in an organic meal.
In the mid of the afternoon, he takes a short nap or swims then reads before his entourage arrives. During the weekends, Owens dislikes to sit at home and so he goes for shopping to his favorite antique stores, like Galerie Franck Laigneau, Garlerie J. Kugel and Galerie Steinitz.
At night, he and Lamy head out to have dinner at a restaurant, at  home or at dinner parties arranged by their families. At eleven, Owens puts on a movie at times or just goes to sleep. His choice of films are by Ken Russell, Cecil B. DeMille and Satyajit Ray. Sometimes, the couple likes to visit the disco so they take a nap and then wake up at 2:00 A.M., sip the coffee and go for dancing.
For his designing, Rick Owens has received the Perry Ellis Emerging Talent Award in 2002, plus an award for Fashion Group International's Rule Breaking and Cooper-Hewitt National Design Award in 2007.