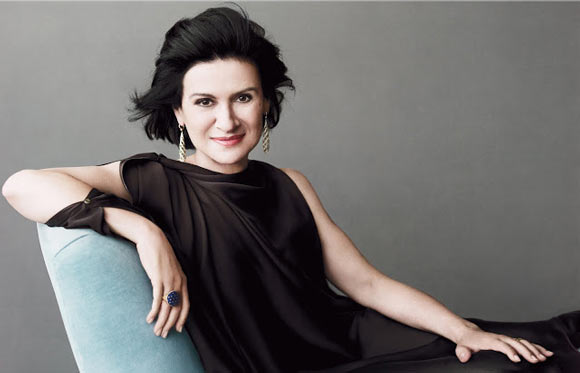 Anne Paloma Ruiz Picasso y Gilot, known as Paloma Picasso simply, was born on April 19, 1949, Paris. She is a prominent French businesswoman and fashion designer. Paloma was hence destined to develop a great aesthetic and creative sense. She is recognized for the jewelry she designed for Tiffany & Co. as well as for her signature fragrances.
She is the youngest child of Pablo Picasso, an eminent twentieth century artists; and  Françoise Gilot, a writer and painter. In Spanish language, Paloma's name is defined as "dove". She is represented in several works by her father, such as Paloma in Blue and Paloma with an Orange.
In 1968, she began a career in jewelry making, when she was in Paris designing costumes. Encouraged by her early success of re-creating necklaces from stones she bought from flea markets. After a year, she presented her efforts to Yves Saint Laurent (friend and couturier), who instantly commissioned Paloma to create accessories collection for the company. By 1971, she started working for Zolotas.
Four years after designing for Tiffany & Co. in New York, she commenced on experimenting and producing fragrances. Her first was an eponymous perfume for the cosmetics company L'Oréal. In the publication, New York Post, she described the creation as intended for a market of strong females like herself.
Paloma's work is on exhibit permanently at two museums in America including The Field Museum of National History (Chicago) and National Museum of Natural History, of Smithsonian Institution.
In 1988, she was given the honor by The Fashion Group as being among the women who made an extraordinary impact on the design industry. She was presented with the MODA award by The Hispanic Designers Inc. Since the year 1983, Paloma has been included in the International Best Dressed List.
Paloma has a predilection for red. François Nars (photographer and make-up artist) described red as Paloma's trademark and called it her signature. She has been attracted to the color from an early age, when she began applying red lipsticks at the age of six. She has become a recognizable icon by red on her lips.
For a short period of time, she lost fondness towards designing after her father's death in 1973. At that time, she played the role of Countess Erzsébet Báthory in Immoral Tales, a film by Walerian Borowczyk. This film garnered her positive remarks by the critics for her timeless beauty. This was also her last acting project.
In 1978, Paloma Picasso married Rafael Lopez Cambil (director and playwright) in a monochrome wedding theme. However, in 2000 the couple separated and after their divorce Paloma married Eric Thévenet, a Doctor of Osteopathic Medicine, who had an interest in design and art as well. His insight became a valuable resource for Paloma and her collections.
As a child, Paloma had always been interested in not only designing jewelry but also wearing it. She purchased multi-colored beads from the market and stringed them in attractive ways.
Her inspiration has been the environment around her; things with different textures, colors and shapes. In the early days of her career, she was fascinated by graffiti, symbols and scribbles.
Paloma is very much attracted to color and bold sensuous shapes. Although the designer is not tall, she has amazing features. She wears stones and a lot of her apparels are in black.
The designer loved her parents and learned many important lessons of life and creativity from them.