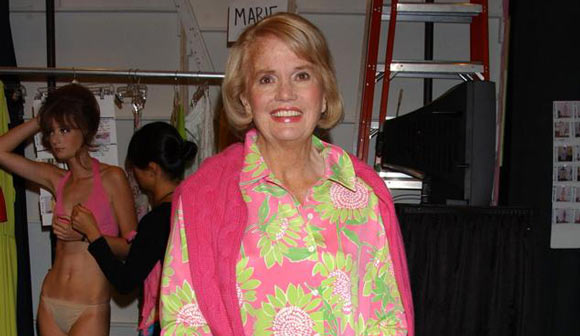 Lillian (Lilly) Pulitzer Rousseau, known for Lilly Pulitzer, Inc., was a fashion designer and socialite from America who lived from 10th November 1931. Her brand is famous for clothes and other such merchandise featuring floral, colorful and bright prints. She was called the Prep Queen within the high society where she was popular.
Lilly was born to Robert V. McKim and his wife Lillian Bostwick McKim. Her younger sister was Florence Fitch and elder sister Mary Maude. Their mother was an heiress to the fortune of Standard Oil. In 1937, she divorced Robert and married Ogden Phipps. Lilly studied at New York's Chapin School. In 1949, she earned her graduation from Connecticut's Miss Porter's School. Although she attended Finch College, she left the place after completing a semester to work as an assistant in West Virgnia and to do voluntary work in The Bronx at the Veterans Hospital.
In 1950, she and Herbert Pulitzer eloped however in 1969 they divorced each other. The two had three children. Soon after, she got married to Enrique Rousseau. Her name then became Lillian McKim Rousseau but her brand's name remained the same. In 1993, Rousseau past away and Lilly kept on living in Florida where she had settled with Pulitzer in Palm Beach. Pulitzer owned groves of citrus oranges and from the produce, Lilly opened a juice bar. In the course of selling juice at her stand, she realized that the practice of squeezing the oranges made her clothes dirty. In order to combat this situation she designed and stitched a sleeveless dress for work made from a colorful cotton print. Lilly's customers began loving her dress and so she produced some more to sell them at her stand. Eventually, Lilly was trading more dresses than juice and hence decided to steer her career towards designing apparels and selling them.
In 1959, she established her company and its chief factory was in Miami. Key West Hand Print Fabrics produced the material for Lilly. Between the 1960's and 1980's,  Lilly Pulitzer clothes were in demand and worn by influential personalities, such as Caroline Kennedy, Jacqueline Kennedy Onassis, members of Rockefeller, Whitney and Vanderbilt families. Jacqueline posed in a dress by Lilly and that design proved to become a triumphant style. However, in 1984 she closed the whole operation of clothing. In 1993, the company was revived when the brand was bought by Sugartown Worldwide, Inc. Lilly was not involved in the everyday company administration but served as a creative expert, approving new collections, fabrics and designs.
Today, there are seventy-five Lilly Pulitzer via stores, and twenty-two retail stores owned by the company. Products are shelved at departmental stores like Belk, Saks Fifth Avenue, Nordstrom, Neiman Marcus, Lord & Taylor and Bloomingdales. In 2010, Oxford Industries, Inc. purchased Lilly Pulitzer brand for $60 million.
Lilly Pulitzer produces clothing for men, women and children as well as maternity outfits. Shoes, accessories, jewelry, stationery and bedding are also manufactured and sold. A Bridal Collection was also launched by the company in the same year of the takeover.
In addition to her designing, she also published books on lifestyle: Essentially Lilly – A Guide to Colorful Holidays, and Essentially Lilly – A Guide to Colorful Entertaining. Moreover, she released calendar books Essentially Lilly – Social Butterfly Engagement Calendar (2005), and Essentially Lilly – Party Animal Engagement Calendar (2006).
Aged 81, Pulitzer died on 7th April 2013 in Palm Beach, Florida.